Plantation, Florida, is a city with a population of just under 95,000 people, which when you consider that the first home that was built was completed and sold in 1948 is not bad going. Like most of Florida it is fairly low-lying, being not much above sea level, and – also like most of Florida – is subject to the annual hurricanes from which we suffer.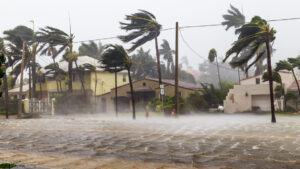 The problem with hurricanes is that even what is thought of as a "small" one – if there is such a thing as a small hurricane – can do a considerable amount of damage to your home or your business. Let's face it, a storm can do damage, but a hurricane has winds which are much faster, and even if the hurricane doesn't last long there is much more chance of structural damage. Even worse is a tornado, which can last for only a few minutes and create the same amount of havoc.
Of course, you are insured against hurricane damage (you are, aren't you?) but when it comes to making a claim on that insurance, the insurance company has a team of what are known as "loss adjusters" who will spring into action.
The problem with this is that many people who buy insurance believe that they are fully covered for every eventuality, which is precisely what the insurance company tries to convince them of when they advertise.
Exclusion Clauses are Everywhere in Insurance Policies
However, almost all insurance policies have exclusion clauses written into them, and this is because of the simple fact that insurance companies do not like to pay out! And the job of their loss adjusters is to find some way in which they can reduce the amount that they have to pay out to a minimum.
And this is why, if you have an insurance claim, you need us at All Claims Solutions, as Plantation, Florida, public adjusters, to act on your behalf. After all, if the insurance company can employ "adjusters" why shouldn't you? The difference is that – as Plantation, Florida, public adjusters – we act on your side and our job is to see to it that you get the full amount that you are due and not what the insurance company would prefer to pay you.
Better still, we don't charge you any fees! Well, not quite true, but we don't charge you anything for the work that we do on your behalf until we have got you the best settlement possible. Only then do you pay us our fee which we will agree with you before we start work.
So, as Plantation, Florida, public adjusters, when you use our services, you cannot lose! If we don't win, you don't pay! We can't be fairer than that.



More Posts You May Find Interesting