Hurricane season in South Florida is here! Whether you are in Miramar, Weston, or elsewhere in and around Ft. Lauderdale, let's hope it doesn't happen, but it may. If you have hurricane damage, and you need to file an insurance claim, a hurricane claims insurance adjuster can help you get what you deserve.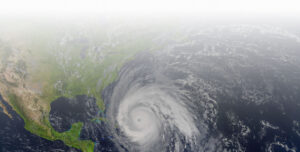 The problem with hurricanes is that they can inflict huge amounts of damage in a very short space of time. Hurricanes form over the Atlantic far away from land, their energy source being the warm waters. A hurricane typically starts as a wave of low-pressure air in the warm, moisture-rich atmosphere over the tropical ocean. The gathering storm draws in warm air and water vapor as it rises and grows, forming thunderclouds and starting to rotate in response to Earth's rotation. In the area in and around South Florida, it spins counter-clockwise, while in the southern hemisphere it spins in the opposite direction – clockwise.
The winds of a hurricane can blow at speeds of anywhere from 74 mph to over 157 mph, the faster ones being able to destroy houses and make areas uninhabitable. They can last for days.
Gusts Of Over 200 mph in a Florida Hurricane
Of course, it is to be hoped that we escape the force of either hurricanes or tornadoes, but if you do happen to suffer damage to your home it can be severe and cost huge amounts of money to repair. Insurance companies do not like hurricanes for that reason and employ a loss adjuster to assess the damage and decide what the insurance company should pay for and what not. The loss adjuster is supposed to be independent, but – hey – he or she is paid by the insurance company!
If you suffer damage as the result of a hurricane you need a hurricane claims insurance adjuster to work on your side. At All Claims Solutions we are a licensed insurance adjuster that will work with you to make certain that you get every cent that you deserve. What's more, we work on the basis of an agreed fee, but it is only payable on successful settlement of your claim.
So, if you need a hurricane claims insurance adjuster to help you, call us right away. Whether you are in Fort Lauderdale or Pembroke Pines, Weston or Miramar, or anywhere in between here in Broward County, our best-in-class public adjusters are ready to help.



More Posts You May Find Interesting