What is an Insurance Adjuster?
Insurance Adjusters are hired by insurance companies to represent them by investigating a loss and providing a conclusion of a claim. Once your damage is reported to the insurance company, a claim is processed and a claim number assigned. Then, it's handed over to an internal/ insurance adjuster. This adjuster is supposed to investigate the damage and gather information to determine the outcome of the claim and the insurance company's financial responsibility; however, even if they gather all appropriate information, Insurance adjusters are hired independently and always try to protect the interest of their employer, the Insurance company. Additionally, insurance adjusters do not need any background in construction at all. Therefore, most of the times their investigation and/or estimate falls short of what is really required to put the insured in the pre-loss condition.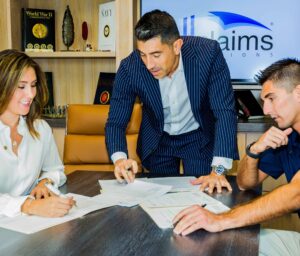 What is an Independent Insurance Adjuster?
Frequently, here in South Florida, we incur heavy losses. Often floods occur. Sometimes it's fires. There are many types of natural disasters and weather events, and plus there are more "ordinary" events such as a break in piping or a fire. In these cases, homeowners in communities that we serve such as Weston, Miramar, Pembroke Pines and Davie turn to an "independent insurance adjuster" to represent their interests against the insurance company. An independent insurance adjuster works for YOU the homeowner and NOT the insurance company. Thus he or she represents YOUR interests and is not motivated to err on the side of cheapness.
How Much Does it Cost?
That depends on the ultimate outcome. But the good news is that the first step to finding an independent insurance adjuster here in South Florida is to contact us. We charge ZERO for the initial consultation. We can evaluate your situation and explain the ultimate costs involved. But – generally speaking – we get paid if, and only if, you get paid. Our insurance adjusters do this every day every week and so we are experts not only in working to get you what you deserve and representing your interests against insurance companies, but in the entire process. We can and will fairly evaluate the costs involved and work hard to get you every penny you deserve in your insurance claim. Whether it's fire or water, a hurricane or a windstorm, let our insurance adjusters help you protect your rights.
Weston Florida Factoid
Seeing Weston develop into what was appearing to be a self-sustainable community, the Board of Supervisors initiated an Incorporation Feasibility Study in April 1994 to determine if Weston should incorporate as a city, annex to a neighboring city, or remain as a part of unincorporated Broward County. In May 1995, the Board appointed a nine member Steering Committee to study the incorporation issue. The committee was comprised of residents and consultants, including resident Alex Muxo, former City Manager of the City of Homestead as Co-chair; resident Renee Smoley, as Co-chair; attorney Donald Hall, representing Arvida and former Assistant City Attorney of the City of Fort Lauderdale; Dennis Giordano, Engineer and former Assistant City Manager of the City of Hollywood; Bonaventure resident, Edwin Jacobson, retired attorney; Brad Orviedo, Basin II landowner; Roy Rogers, Arvida Vice President; resident Glenn Sterling, M.D., President of the Homeowners Association at Weston, Inc.; and resident Richard Weiss, attorney for several south Florida municipalities. In addition to the Steering Committee, the Board solicited Requests for Proposals from the neighboring municipalities of Davie, Fort Lauderdale, Pembroke Pines and Sunrise to see if there were any benefits of Weston annexing to another city. Source: https://www.westonfl.org/about/city-history.